Lean Portfolio Management (LPM)

Learn to implement the Lean Portfolio Management functions.
Align strategy with execution, collaborate across silos, empower teams, and organize around value to adapt to what customers want, faster.
LPM Functions
The Lean Portfolio Management course covers the three LPM functions in detail:
Strategy & Investment Funding
ensures the entire portfolio is aligned and funded to create and maintain the solutions needed to meet business targets.
Agile Portfolio Operations
coordinates and supports decentralized program execution and fosters operational excellence.
Lean Governance
is the oversight and decision-making of spending, audit and compliance, forecasting expenses, and measurement.
Learning Objectives - Lean Portfolio Management 6.0
#1 Introducing Lean Portfolio Management
Explain the need for Lean Portfolio Management
Describe the Lean-Agile Mindset and SAFe Principles
Recognize the problem of project cost accounting
Describe the key benefits of organizing around value
Define a SAFe portfolio structure
#2 Establishing Portfolio Strategy and Vision
Construct well-written Strategic Themes
Explore a current and a future state of a portfolio
Describe the portfolio Roadmap
#3 Realizing Portfolio Vision through Epics
Define portfolio Epics
Explain how to estimate Epic costs
Describe the benefits of the SAFe Lean Startup Cycle
#4 Establishing Investment Funding
Describe the need for the four Lean Budget Guardrails
Explain the purpose of the LPM events
Explore how to establish Value Stream budgets
#5 Managing Portfolio Flow
Explain the value of portfolio flow
Define the steps in a Portfolio Kanban
Explain how to sequence Epics with weighted shortest job first (WSJF)
#6 Applying Agile Portfolio Operations
Describe Value Stream coordination
Describe the role of the LACE in supporting program execution
Discuss the value of the APMO
Explain how to use Measure and Grow to improve program execution
#7 Applying Lean Governance
Discuss strategies for measuring Lean portfolio performance
Explain how to achieve continuous compliance
Relate Technology Business Management to SAFe
Explore Agile software development capitalization
Prepare for the LPM Getting Started Workshop
Review SAFe Community, resources and tools
Is Lean Portfolio Managment the Right Course For Me?
The Lean Portfolio Management course helps executives, project management officers (PMOs) and other key stakeholders plan dynamically and be flexible enough to adjust initiatives and budgets as the market changes. The LPM course provides the guidance and tools attendees need to work effectively in remote environments with distributed teams. You'll learn how to connect portfolio strategy and initiatives to the planning and execution of work, how to integrate feedback from participatory budgeting, and how to adapt to change while maintaining your funding vision and roadmap.

Lean Portfolio Management answers the questions:
How do I connect strategy to execution?
How do I manage flow and solve perpetual overload?
How can I fund and govern dynamically?
How does Lean Portfolio Management fit into SAFe?

Attendees learn:
How to connect the portfolio to the enterprise.
How to maintain portfolio vision and roadmap.
How to establish Lean budgets and guardrails.
How to create portfolio flow.

Course Chapters:
Introducing Lean Portfolio Management
Establishing Portfolio Strategy and Vision
Realizing Portfolio Vision Through Epics
Establishing Investment Funding
Managing Portfolio Flow
Applying Agile Portfolio Operations
Applying Lean Governance
Practicing SAFe

Scaled Agile Certified Training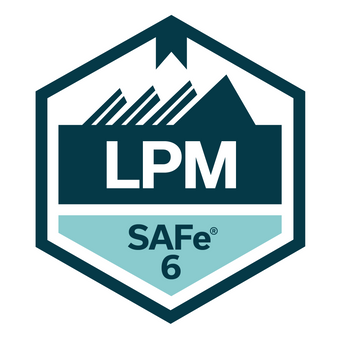 LPM Credential

What's included:

Course materials
Remote learning
Access to SAFe® Studio, a visual online workspace
One-year membership to the SAFe® Community Platform
Lean Portfolio Manager certification exam
Access to the optional Getting Started with LPM Workshop

Pre-Requisites

All experience levels are welcome! No previous SAFe training or experience is required.
\Learnworlds\Codeneurons\Pages\ZoneRenderers\CourseCards