Leading SAFe®

(SAFe Agilist certification)

Whether you are evaluating if SAFe is a good fit for your organization, or you want to give your SAFe adoption a boost, this is a great course for you.
Take a Leading SAFe course to discover how companies can build business agility, and how to make SAFe work inside your organization.

Understanding SAFe
Leading SAFe is the first step on the Scaled Agile implementation roadmap - for good reason!
The first half of the course is a detailed exploration of the foundational elements of Business Agility on which SAFe is built, with many hands-on exercises.
The second half dives into Team Agility and Agile Product Delivery, including an experiential simulation of a Program Increment Planning event.
The course completes with an overview of SAFe Lean Portfolio Management (which is a whole two-day course on its own) and a review of the key steps for leading the change.
Learning Objectives - Leading SAFe 6.0
#1 Thriving in the Digital Age with Business Agility
Describe what is necessary to thrive in the digital age
Recognize SAFe as an operating system for Business Agility
Summarize the seven core competencies of Business Agility
#2 Becoming a Lean-Agile Leader
Embrace the Lean-Agile Mindset
Apply the Ten SAFe Lean-Agile Principles:
Take an

economic view

Apply systems thinking

Assume variability; preserve options

Build incrementally with fast, integrated learning cycles

Base milestones on objective evaluation of working systems

Visualize and limit WIP, reduce batch sizes, and manage queue lengths

Apply cadence, synchronize with cross-domain planning

Unlock the intrinsic motivation of knowledge workers

Decentralize decision-making

Organize around value
#3 Establishing Team and Technical Agility
Prepare to form cross-functional Agile Teams
Describe Built-in Quality practices
Recommend organizing around value with Agile Release Trains (ARTs)
#4 Building Solutions with Agile Product Delivery
Express the benefits of a Customer-centric culture
Practice applying Design Thinking
Prioritize the Program Backlog with weighted shortest job first (WSJF)
Participate in a PI Planning event
Explain the need to Develop on Cadence; Release on Demand
Justify the need to build and maintain a Continuous Delivery Pipeline with DevOps
#5 Exploring Lean Portfolio Management
Describe the purpose and elements of a SAFe portfolio
Construct well-written strategic themes
Employ the portfolio canvas to describe the current and future state
Create Epic hypothesis statements to inform the Vision
Distinguish traditional and Lean budgeting approaches
Construct a Portfolio Kanban
Explain the behaviors necessary to lead by example
Discuss techniques for leading successful change
Recognize the steps in the SAFe Implementation Roadmap
Review SAFe Community, resources and tools
Is Leading SAFe the Right Course For Me?

This course is designed to show you how SAFe helps you improve quality, productivity, employee engagement, and time-to-market. You'll come away with an understanding of how to align your entire organization around the same clear objectives, and how to improve the flow of value, from strategy to delivery. You'll learn what makes companies more customer-centric and how to run key SAFe alignment and planning events, like PI planning.

Leading SAFe answers the questions:
What is SAFe?
What is business agility and how does SAFe support it?
How does an organization get started Scaled Agile Framework®?
Attendees learn:
How to realize the benefits of SAFe, including:
Boosting productivity.
Improving product quality.
Decreasing time to market.
Increasing employee engagement.
How to establish Team and Technical Agility and organize around the flow of value.
How to align massive organizations around clear, common objectives.
How to participate successfully in critical SAFe events, such as PI Planning.
How to adopt a customer-centric mindset.

Course Chapters:
Thriving in the Digital Age with Business Agility
Becoming a Lean-Agile Leader
Establishing Team and Technical Agility
Building Solutions with Agile Product Delivery
Exploring Lean Portfolio Management
Leading the Change
Practicing SAFe (SAFe Community, resources and tools overview)
Scaled Agile Certified Training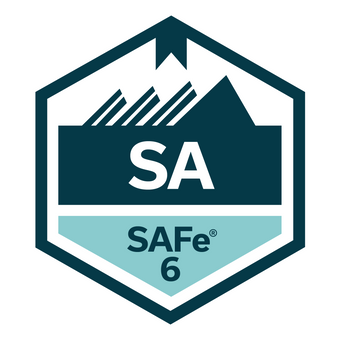 SA Credential

What's included:

Course materials
Remote learning
Access to SAFe® Studio, a visual online workspace
One-year membership to the SAFe® Studio Platform
SAFe Agilist certification exam

Pre-Requisites

All experience levels are welcome! No previous SAFe training or experience is required.
Upcoming Leading SAFe Classes
\Learnworlds\Codeneurons\Pages\ZoneRenderers\CourseCards