Certified ScrumMaster® (CSM)

Learn Scrum by using Scrum. This two-day interactive workshop is run using Scrum and you also get to experience Scrum through a fun simulation.
Learning Objectives
The Scrum Team
Scrum Team responsibilities and accountabilities
Scrum Master responsibilities and accountabilities
Developers' responsibilities and accountabilities
Product Owner responsibilities and accountabilities
Product Owner is a single person, not a committee.
Product Owner authority over the Product Backlog and working

collaboratively with Developers and stakeholders.
Events and Activities
How inspect and adapt can increase transparency at

each of the Scrum events.

Perform a Sprint Planning.
Perform a Sprint Review.
Perform a Sprint Retrospective.
Effects of skipping the Sprint Retrospective.
Developers' Daily Scrum.
Daily Scrum vs. status meetings.
Premature Sprint termination.
Advantages of a strong Definition of Done.
Creating a Definition of Done.
Core Competencies
Situations in which the Scrum Master can serve the needs of the Scrum Team or organization through facilitation.
Techniques for facilitating group decision making.
Differences between facilitating, teaching, mentoring, and coaching.
Service-Leadership
Scrum Master as a team leader.
Impact of technical debt.
Development practices for a high-quality Increment and lower technical debt each Sprint.
Supporting the Product Owner.
Organizational impediments.
Assisting with impediments.
Resolving an impediment.
Organizational design changes caused by adopting Scrum.
Why Scrum does not have a project manager.
Key Concept
From the Scrum Guide:
"
Scrum combines four formal events for inspection and adaptation within a containing event, the Sprint. These events work because they implement the empirical Scrum pillars of transparency, inspection, and adaptation."
Transparency
The emergent process and work must be visible to those performing the work as well as those receiving the work. With Scrum, important decisions are based on the perceived state of its three formal artifacts. Artifacts that have low transparency can lead to decisions that diminish value and increase risk.
Transparency enables inspection. Inspection without transparency is misleading and wasteful.
Inspection
The Scrum artifacts and the progress toward agreed goals must be inspected frequently and diligently to detect potentially undesirable variances or problems. To help with inspection, Scrum provides cadence in the form of its five events.
Inspection enables adaptation. Inspection without adaptation is considered pointless. Scrum events are designed to provoke change.
Adaptation
If any aspects of a process deviate outside acceptable limits or if the resulting product is unacceptable, the process being applied or the materials being produced must be adjusted. The adjustment must be made as soon as possible to minimize further deviation.
Adaptation becomes more difficult when the people involved are not empowered or self-managing. A Scrum Team is expected to adapt the moment it learns anything new through inspection.
Is Certified ScrumMaster® the Right Course For Me?
Become a Certified Scrum Master® by attending this well-crafted and engaging workshop taught by a seasoned trainer. This course isn't just for Scrum Masters and benefits anyone in your organization who needs a solid foundation in Scrum and Agile or seeks to
understand how Scrum and Agile can transform the way you work.
This includes:
Leaders at all levels, from C-Suite to 1st line Management
Engineers, Analysts, Testers, Design, & Ops
Program & Project Managers
Marketing, HR, Legal, Support, or any function in your business solving hard problems
You?

It's also a great refresher if you've been practicing Scrum for a while and want to come up-to-date on any improvements to Scrum.
Using the latest tools, the workshop is designed to keep you engaged and provide a high-quality, remote learning experience.
The workshop incorporates Agile and Scrum values, principles, and practices throughout to reinforce the learning. Using real-world examples plus theory, you will receive a thorough grounding in how Scrum works and practical applications to take back to work.
ScrumMaster® Learning Path
Certified ScrumMaster®
Learn the Scrum framework and understand team accountabilities, events, and artifacts.

F

oster an effective and productive working environment, whether as a Scrum Master or as a Scrum team member.



Guide your team to understand scrum values, principles and practices.
Guide your team to apply and succeed with Scrum.
Understand a Product Backlog and how the Scrum Team uses it.
No Pre-Requisites
Advanced Certified ScrumMaster®
Facilitate better dialogue between the Product Owner, Scrum Team members, customers, stakeholders, and executives
Respond confidently when encountering resistance to change, lack of engagement, low motivation, and unavailability of key people
Increase engagement to encourage greater accountability, commitment, and buy-in
Scale Scrum and Agile beyond a single team
Requires CSM and at least 12 months of Scrum Master experience
Certified Scrum Professional - ScrumMaster®
Analyze, Synthesize and Evaluate an existing Scrum implementation.
Identify Product Development or Lean wastes in your Scrum system.
Apply a systemic approach for helping organizations improve their Scrum adoption.
Design a complex intervention to addresses the root cause(s) of an organizational impediment.
Communicate how to change the culture of a team or organization.
Plan and coordinate the launch of multiple Scrum Teams.
Requires A-CSM and at least 24 months of work experience specific to the role of Scrum Master
Scrum Alliance Certified Training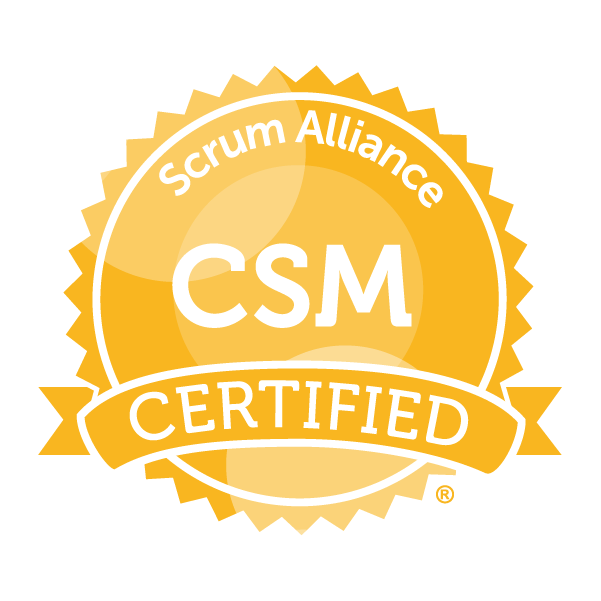 CSM Credential

Upon course completion you gain a two-year Scrum Alliance Membership and become eligible for the Certified Scrum Master® exam, required to complete the Scrum Alliance certification process.

Activate your Scrum Alliance® certification account and pass your CSM test by correctly answering 37 out of the 50 questions within the 60-minute time limit.

Pre-Requisites

All experience levels are welcome! No previous Scrum training or experience is required.
Book Your Private CSM Class
\Learnworlds\Codeneurons\Pages\ZoneRenderers\CourseCards